Low Back Pain in Shelburne

Low back pain problems have become one of the most common concerns we see in our Shelburne chiropractic clinic. Have you missed work, had to give up a recreational activity that you enjoy, or had trouble sleeping at night because of back pain? If so you're not alone. Back pain is such a common part of modern life that many people just accept it as normal and try to get by as best they can.
Statistics have shown that 80-90% of the population will be affected by spinal issues and back pain at any point during their lifetime, making it the leading cause of disability in the United States. while right now, one out of every three people you know are struggling with low back pain.
Spinal Hygiene: Back Problem = Health Problem?
Consider this: your spine is your lifeline. It is tasked with protecting the vast web of nerves that control the body by housing the spinal cord which carries the vital messages back and forth from your brain to your body, all 32 trillion cells! An issue with the spine can cause functional issues throughout the body. And sometimes, like a cavity, you don't know there's a problem until it's too late.
A low back problem may not be just a spinal problem; it could be a health problem. Chiropractors are the experts in assessing the spine for nerve interference.
Herniated Discs
One of the back conditions that patients routinely visit a Shelburne Chiropractor for is a herniated disc.
A herniated disc refers to a situation where the outer portion of one of your vertebral discs has been torn or separated. This allows the inner portion of the disc, or nucleus, to protrude through the fibrous exterior. Herniated discs are sometimes called ruptured discs or slipped discs. The herniated portion of the disc can end up compressing nerves near the disc. When the sciatic nerves that go down into the leg are compressed this may result in pain, numbness or tingling going down one or both legs.
This type of injury generally responds well to chiropractic care so it's wise to schedule an appointment in the early stages. Effectively addressing a herniated disc can help patients avoid prescription pain medications and any side effects that come along with them.
As much as we may wish there was a pill to correct low back pain, a natural approach is important because we need to address the cause of it in order to understand the solution that will create ease, leading to strength and suppleness.
---
WHY A DETAILED HISTORY AND chiropractic EXAM IS IMPORTANT FOR EVALUATING YOUR LOW BACK PROBLEMS
Some people remember the day their low back pain started, but most just noticed it gradually over time. Your past has brought you to where you are today so we need to be detectives to uncover how car accidents, sports injuries, slips and falls that have jarred your spine, coupled with bad habits, repetitive motions, and use of screens and devices have accumulated so that we can understand not only how it all got started but also what keeps recreating it.
Once we understand what your unique low back challenges are and how they developed, we use SPACE certified technology to assess your spinal function, the same used by the astronauts, to get a better idea of how nerve interference is affecting the vital organs and systems that pain may not be telling us about.
Watch this video to see how important the exam process really is.
X-rays are valuable tools to tell how long the problem has been there, whether we have caught it in time and how long it will take to correct.
Many are surprised to see underlying scoliosis and loss of proper alignment because they thought there would have been constant pain for that to be there. Just like a cavity, by the time you are feeling it, it may be a sign of a much bigger problem. New research shows us 9% of 10 year olds already have signs of degenerative changes!
---
HOW CHIROPRACTIC CAN HELP LOW BACK PAIn
Chiropractors specialize in finding a natural solution that is non-invasive, meaning without drugs or surgery, which helps your body correct the subluxations or nerve interference, restoring the proper flow of messages that heals you and keeps you healthy, helping you avoid chronic problems you may have seen in your grandparents.
Undetected vertebral subluxations can not only result in low back pain, but can also lead to degenerative changes in the spine, which are usually completely preventable. . A healthy spine should last you your entire life.
If a vertebra in the spine is out of alignment, it may affect the biomechanical design. We use a light touch approach to help the brain reorganize the stored tension patterns and unwind them as they are integrated, developing healthier patterns to replace the old ones.
For some people, further adjunctive procedures are also useful.
---
IN OFFICE PROCEDURES TO HELP LOW BACK PAIN
When indicated, we will use supportive procedures with specific muscles for Neuromuscular Reeducation.
Resetting muscles that have become hyper or hypotonic (spasmed or weakened): When muscle function is impaired, communication with the brain breaks down. By resetting the muscles around the thigh and hip we can restore feedback to the brain and allow it to begin the healing process.
Taping: creates a sustained proprioceptive input using kinisiotape placed in a specific way based on your spinal distortions.
Vibe Plate Exercises: accelerate the neuro-plastic changes that can be made toward optimizing low back function.
---
COULD YOUR FEET BE CONTRIBUTING TO YOUR LOW BACK PAIN?
When you stand, your foundation for addressing gravity starts with your feet. Loss of integrity in the arches of the feet can lead to a loss of stability in the ankles, knees, hips, and even shoulders. We perform foot scans using digital technology to assess whether there are any alterations of the three arches in each foot and compare each foot to identify any asymmetries. This analysis can reveal imbalances in the low back that may be coming from the feet.
HOW HOME CORRECTIVE EXERCISE TRAINING CAN HELP LOW BACK PAIN
We get our best results when we work together as partners in the process, so we will teach you what you need to do to get your best results, including the best corrective exercises for your low back problems.
Everyone is different but the two most common exercises that will help to improve the flexibility of the low back are:
The two most common strengthening exercises to protect our spines are for core stabilization to keep the spine healthy and in the proper position.
the plank
the Foundation Training exercises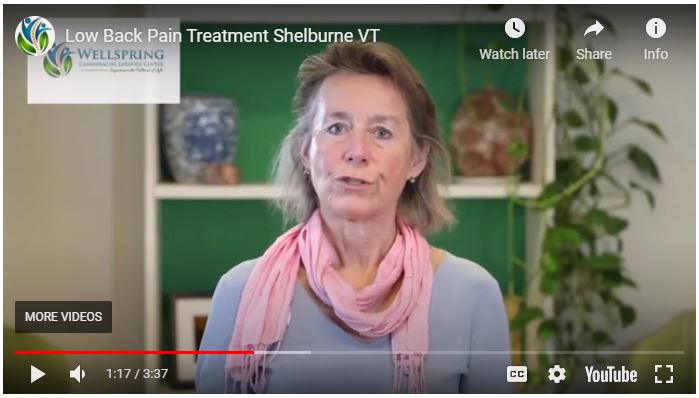 By doing the exercises we give you between sessions, we will be able to cover more ground during your visits. On each visit, the idea is to take three steps forward and between visits to have no steps back. You doing your part will ensure you get the best results as fast as possible.
---
WHY CORRECTING BAD HABITS IS IMPORTANT TO HELP LOW BACK PAIN
Addressing low back pain involves a program of care that not only corrects the vertebral misalignments (subluxations), but also shows you ways to stop recreating them so you can prevent problems in the future. If you are struggling with low back pain, the 3 most common habits to break are your position when you are
sitting
bending or lifting
sleeping
It is important to learn the proper way to sit in order to avoid poor posture accumulating over time and causing degenerative change in the low back.
Standing desk: work station ergonomics at home
Consider investing in a standing desk. You can buy one or even make one of your own, but standing is so much better for our health than sitting.
When was your last refresher on how to lift properly?
Anti-inflammatory Diet and Supplements
Choosing supplements can be confusing!
Focusing on an anti-inflammatory diet along with the right supplements will help to avoid feeding the inflammatory fire that is burning in the body while reducing the wasted time and money spent on the wrong supplements.
COMMON CAUSES OF LOW BACK PAIN
Although many would think that physical traumas are what cause low back pain, like work or sports injuries, car accidents, or slips or falls that jar the spine, there are plenty who seem to have trouble without any overt injuries. it is the micro-traumas that cause more problems to persist leading to degenerative and arthritic changes over time.
Do you carry a heavy purse or computer bag? Do your kids use heavy backpacks? Do you spend hours a day sitting, staring at a computer screen? Does your job require manual labor, bending, lifting, pushing or pulling heavy or awkward objects?
All of these activities can weaken some muscles and tighten others. Just add gravity to overstretched and weakened muscles coupled with shortened and spasmed muscles along your spine, and you have the perfect storm for low back pain.
What about using braces or orthopedic support pillows for low back pain?
FAQ'S
HOW DO I KNOW IF MY BACK PAIN IS SERIOUS
It is always important to identify all potential causes of low back pain so that the proper recommendations are made to address the problem. These may include vertebral subluxations, spondylolisthesis, ankylosing spondylitis, fibromyaligia, rheumatoid arthritis, osteoarthritis, spinal stenosis and osteoporosis, as well as ruling out tumors, infections and fractures.
Minimizing any low back pain as just something to ignore, tolerate or live around may backfire as a strategy. Just as a cavity may seem insignificant, when unaddressed in a timely manner, it can worsen and become a whole lot of trouble later that could have been prevented.
HOW DOES POSTURE AFFECT LOW BACK PAIN?
I bet you can still remember your parents yelling at you to sit up straight while at the dinner table or doing your homework. While you may have rebelled against your parents then, you should listen now; your posture has a huge effect on your spine and the development of back pain.
With the increased time people spend in the seated position at work or on the computer at home, the effects of poor posture range from putting extra strain on the discs, vertebrae, and muscles throughout your back to causing an increase in pressure on the nerves exiting the spine.
Go here to learn more about Posture
HOW LONG DOES IT TAKE TO CORRECT CHRONIC LOW BACK PAIN?
Just like you can't straighten someone's teeth overnight, remolding the spine to correct low back issues takes time. With good spinal care, practicing proper sitting posture, regularly stretching, and doing core-strengthening exercises, you should see results in anywhere from a few weeks to half a year. Depending on how long the problem has been there, it may take 1-3 years to stabilize the spine and rebuild the structure to stop any degenerative damage and reduce the risk of relapses. Low back pain correction is an ongoing process and everyone responds to it at their own pace.
Patients are always asking, "How often do I have to come?"
There are three factors that impact how well the body holds adjustments: the level of health coming into care, past traumas and bad habits.
WHAT EXERCISES IMPROVE LOW BACK PAIN?
Generally speaking, most people need to reconcile their time in front of screens, and bad habits with posture and lifting, so exercises like squats, lunges and planks help with that. Those with scoliosis will need very specific exercises guided by your practitioner.
DO LOW BACK PAIN BRACES WORK?
Lumbar support braces that are worn around the waist can cause muscle atrophy and although they are often worn to prevent low back injuries, they are associated with worse outcomes when injuries do occur and are not always the best strategy.
Sacroiliac belts that are worn low around the hips are better for preventing low back injuries and if there is already a sacroiliac instability, then a sacroiliac belt can be of immense use for protecting the low back while it heals.
WHEN SHOULD I SEE A CHIROPRACTOR?
Whether you have already been diagnosed with a herniated disc or other low back pain diagnosis or no diagnosis at all, a chiropractor can assess the issue and formulate an effective care plan.
Don't Let Injuries Linger
While many people wait until they can hardly stand the pain to visit a chiropractor, it is important to understand that pain is your body's last mechanism for letting you know something is wrong
The effectiveness and safety of chiropractic for the care of lower back pain is undebatable, and yet, many people are still unaware of exactly how chiropractic helps. Chiropractors simply focus on allowing the body to function properly, typically concentrating on the musculoskeletal and nervous system. While chiropractic has been shown to be one of the most cost effective approaches for back pain, chiropractors are even better at preventing back pain from beginning in the first place.
WHAT IS THE BEST WAY TO LIFT AND BEND TO AVOID LOW BACK PAIN
How you lift boxes, laundry baskets, children, a shovel of snow or just about anything else, has a bearing on the health of your back. When you lift correctly your spine is in the proper alignment and there is no added stress placed on your back.
If you have a lot of lifting to do try to place items on a table or chair so there isn't as much bending required picking it up.
If carrying the object after lifting, keep it close to the body and spread the weight evenly between both hands and avoid twisting.
Key words: acute pain, ankylosing spondylitis, chronic pain, cauda equine syndrome, common causes of low back pain, disc, disk, facet joints, fibromyalgia, herniated disk, low back pain, lumbar pain, lumbar spine, lumbosacral pain, osteoarthritis, osteoporosis, rheumatoid arthritis, sacroiliac instability, sacroiliac joints,  sciatica, scoliosis, spinal fusion, spinal stenosis, spondylolisthesis, vertebrae.
OFFICE HOURS
---
Monday
2:00pm - 6:00pm
---
Tuesday
7:00am - 12:20pm
---
Wednesday
2:00pm - 6:00pm
---
Thursday
7:00am - 12:30pm
3:00pm - 6:00pm
---
Friday
Closed
---
Saturday
Closed